Every year, around 61,000 babies are born in Ireland. It's very likely that you know someone who's currently pregnant and you want to celebrate the bundle of joy with them once it arrives!
Motherhood can be overwhelming, especially for first-time moms having a baby. If you want to do the mom-to-be a favour, you should consider thoughtful gifts and presents that'll help her with her newborn and her new lifestyle.
Not sure what to get, and don't want to limit to a simple gift card? Then read on. In this article, we'll show you some gift ideas you can get for new moms, and who knows, you might find the perfect gift!
ART ACOUSTICS
When you're tired and worn out, it's the little things that can stress you out even more. Many parents become sensitive to sounds, which means even the smallest sounds can feel amplified and cause discomfort.
Give the new mom in your life art acoustics panels from Buddalife. These serve a double purpose!
First of all, there's beautiful serene art on these panels that'll instantly relax Mam whenever she looks at it. In addition, these panels are specially designed to absorb sound and create a more comfortable space. This will enhance both her physical and mental well-being, which can help her take care of her newborn better.
You should also know that our art acoustic panels are made from recycled materials. You'll be doing your part in sustainability, as we give old materials new life!
If there is a specific design or style of artwork you would like made for the new mama in your life, feel free to reach out to our team and we can help you create the perfect acoustic artwork gift.
PLANT ACOUSTICS
Not only do we have art acoustics, but we also have plant acoustics as well!
It's known that flowers and plants can improve your mood and reduce stress. They can also increase positive energy, which is much needed for new parents.
Buddalife have a selection of plants that are designed to create an oasis of nature. It'll help enhance the new mom's Zen and allow her to realign with nature!
Our plants are easy to care for, so Mom won't have to worry about additional stress on top of looking after her newborn. If she has a partner or someone who's at home often and can help with plant care, think about getting her more plants so they can have beautiful and relaxing greenery spread all throughout their house. This can help everyone in the household feel great! Also, these acoustic gifts can be considered more than a sentimental gift, as they are more practical gifts than you might think, as with less noise the new moms can get proper rest with all the sleepless nights due to night feedings and newborn crying.
Plants also create a healthier eco system in a home, meaning not only are you providing the new mama with gorgeous greenery and acoustic benefits, you will also be providing them with a home that is generating healthier air. This is great for new moms and their little ones.
BIOCRYSTAL YOGA MAT
Yoga is a practice that can not only reduce stress, but also lower your blood pressure and heart rate. Plus, practically everyone can do it, so even new moms who are recovering from childbirth can easily pick it up.
If she seems frazzled, you should suggest that she pick up yoga. And what better way to get her started than to get her a Buddalife biocrystal yoga mat?
The Buddalife biocrystal yoga mat infuses calming biocrystal technologies between the natural cork layers which helps to reduce muscle tension and regulate oxygen intake. This allows Mom to fully immerse herself into a serene and peaceful environment that'll recharge her.
Even if your friend is already experienced in yoga, it's not a bad idea to get her a new mat, especially since ours has wonderful body-benefitting technology in it. It will help enhance everyone's yoga routine and experience.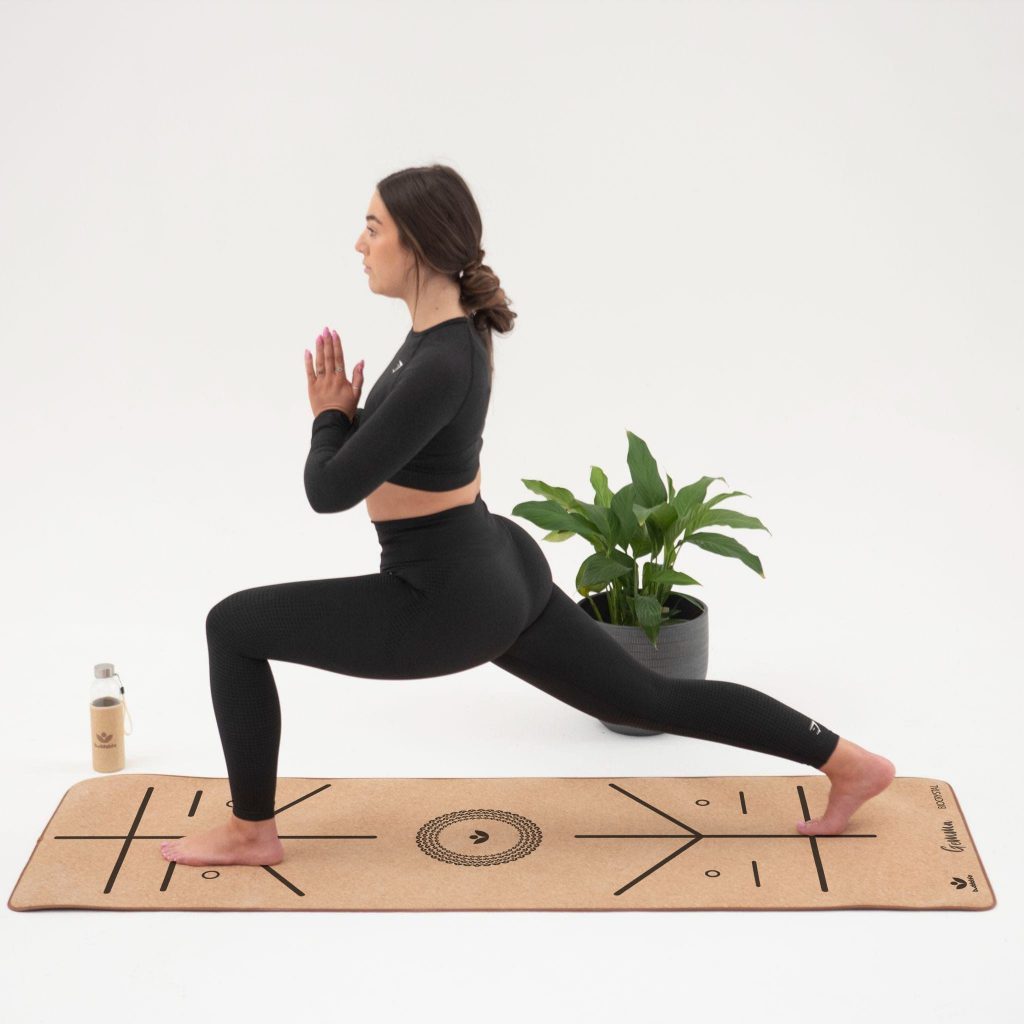 SCENTED CANDLES
When you need a break from life, what do you do? Many women like to draw a bath, light up some candles, some open a bottle of wine and just tune out all of life's worries.
You might think that the bath is what calms you, but in fact, scented candles can provide aromatherapy, which has soothing effects. And doesn't this sound like the perfect thing for a new mother?
While she might not have spare time to draw a bath and sit in it for hours, it can still be beneficial for her to light up some scented candles while she's feeding her baby. So, give her some heavenly smelling candles to enjoy!
WEIGHT BLANKETS
In the first year of their baby's life, mothers lose an average of 40 minutes of sleep per night, with most of the sleep deprivation happening in the first 3 months. Not only that, but lingering sleep deprivation can last up to 6 years!
Sleep deprivation can definitely exacerbate stress and anxiety, as it's affecting the body more than some dark circles around the eyes, so you want to make sure the new mom in your life gets as much sleep as possible. Not only that, but she needs to get good quality sleep as well.
How do you get enough quality sleep then? With a weighted blanket.
The Buddalife calming weighted blankets provide ultimate comfort and allow you to feel secure and relaxed. It'll provide Mom with countless nights of good sleep!
Buddalife's weighted blankets are made from bamboo, as well as luxurious Avoca wool which is made in the oldest mill in Ireland. This makes it the perfect addition to anyone struggling with anxiety! It's also perfect for people with disabilities and special needs, so now's the perfect time to do your research.
BUDDALIFE LEGGINGS RANGE
New moms are always on the go and on their feet. So, if you're thinking, "what do new mothers need," we say, Buddalife leggings!
Wearing jeans and other stiff materials can be uncomfortable right after having a baby. But of course, you can't just go around pantless (even though it is tempting)!
The perfect solution is the Buddalife leggings range (coming soon). These are comfortable, durable, sustainable, and most importantly, fashionable. They are machine washable also! Gift the new mom in your life a few pairs and she'll be set!
BUDDALIFE SLIPPERS
A good pair of slippers can keep Mom nice and warm, wherever she is in the house. The slippers will be much appreciated when she needs to get up for midnight feedings in the dark and cold.
Our Buddalife slippers are made of 100% pure sheep wool, which is great for retaining heat. And the sole is made of soft recycled cork, which makes it eco-friendly. It's honestly like walking on a cloud.
DIGITAL SUBSCRIPTIONS
In this day and age, digital subscriptions are an excellent gift! When Mom is feeding her baby, trying to get it to sleep, or changing diapers, she can watch or listen to these subscriptions and gain great insight into her own life.
There are mindfulness and meditation subscriptions, as well as ones for nutrition and cooking, and fitness. Get her a few of these and she'll have the tools to be in the best mental and physical shape. As a result, she'll be better able to take care of her newborn!
BUDDABEAUTY PRODUCTS
Just because she's a new mom doesn't mean she doesn't need to take care of herself anymore. New moms are often to focused on caring for their little one that they forget to take care of themselves. Self-care and beauty is more important than we think when it comes to recovery and mental health.
One of the best gifts for new moms after birth is some skincare and beauty products. Luckily, we have that!
Our Buddabeauty product line includes belly balm that can help with stretch marks, as well as calming bubble baths, soothing face masks, and luxurious body lotions. Our full range is cruelty-free and vegan so it is the perfect guilt-free gift.
You can combine these products with some of the above ideas (such as scented candles and Buddalife slippers) and Mom will have the perfect relaxation package!
BIODEGRADABLE BABY NAPPIES
New parents can never have enough nappies! But unfortunately, the majority of them end up sitting in landfills.
A fantastic alternative is to gift the new parents biodegradable baby nappies. These will still do the job terrifically and when they're disposed, they'll break down over time.
If the new mom in your life is someone who's eco-conscious, she's sure to appreciate this present!
BIODEGRADABLE BABY WIPES
Another thing that new parents use a lot of is baby wipes. Not only do they use them to wipe down their newborn's body after nappy changes, but they also wipe down surfaces to make them clean for their baby to lie on. Needless to say, new parents need an endless supply of baby wipes!
Like with nappies though, baby wipes are usually made of non-recyclable materials and they're harmful to the environment. But thankfully, there are biodegradable baby wipes available!
Gift the new parents some biodegradable baby wipes and they'll feel relieved that they can look after their newborn without creating a larger carbon footprint.
ANTI-WIFI PROTECTED COT
Is Mom afraid that wifi is causing harm to her family's health? Quell those fears by gifting her an anti-wifi protected cot.
This can be a pricier present, but it's worth it when you see how relieved Mom is. These cots are made to block out wifi signals, so she doesn't have to worry about those frequency waves possibly interfering with her newborn's development.
Buddalife will be offering their own anti-wifi cot that will be the perfect gift for new parents as it not only protects their little one but it is also durable and stylish.
PURCHASE THESE GIFTS FOR NEW MOMS, OR SET UP A GIFT BOX WITH A MIX OF YOUR OWN
New moms can have a tough time, even in this exciting new chapter of their lives. Show her you care and support her by giving her one or a few of these gifts for new moms. She'll be grateful and you'll get to see her and her baby flourish and thrive, thanks to you!
Are you interested in purchasing eco-friendly products for either yourself or your loved ones? Then take a look at our products page now!